Is there anything more refreshing than the ever classic Gin & Tonic?
A quintessential highball cocktail made with gin and tonic water poured over ice, it was originally introduced by the army of the British East India Company as a "cure" to malaria, which was rampant in India and other tropical regions.
In the 1700s, George Cleghorn, a Scottish doctor, studied how quinine (a traditional cure for malaria) could be used to prevent the disease. It was originally drunk in tonic water, however, due to the bitter taste, British officers in early 19th century India took to adding a mixture of water, sugar, lime & gin to quinine in order to make the drink more palatable, and thus, the gin & tonic was born.
If you're wondering specifically why it's gin they took to adding in, it's because soldiers in India were already given a gin ration, and the sweet concoction made sense.
A popular drink, especially in the Endless Summer of Singapore and easy to DIY at home; we're here to show you some variations & twists into elevating this classic at home, cause you know what, we all deserve to be a little fancier in these times!
Have you ever shared a 3am sunrise on a misty Finnish meadow, picked berries barefoot after sauna or run through a field of rye with your friends?
The Kyrö distillers have, and they've distilled those moments into Kyrö gin.
Previously known as Napue, the newly re-branded Kyrö Gin is a Finnish rye gin with a heart of wild nature & naked ambition. Easily one of the best gin & tonics in the world, the Kyrö G&T in particular goes a little like this:
40ml Kyrö Gin
100ml Tonic Water
(buy 3 bottles of Kyrö Gin today & get a free case of 24 bottles Erasmus Bond Dry Tonic Water!)
A sprig of fresh Rosemary
Cranberries
As unique & remarkable as the elusive Drumshanbo Jackalope, The Shed Distillery of PJ Rigney with its medieval copper pot stills fuse oriental botanicals with local irish ones for an incredibly tasty gin.
Try the Drumshanbo Gunpowder Gin in its perfect serve, an easy to replicate drink in your home bar. Served over ice, all you need are:
 A generous wedge of fresh Red Grapefruit

40ml Gunpowder Gin

Chilled premium tonic (we recommend Erasmus Bond)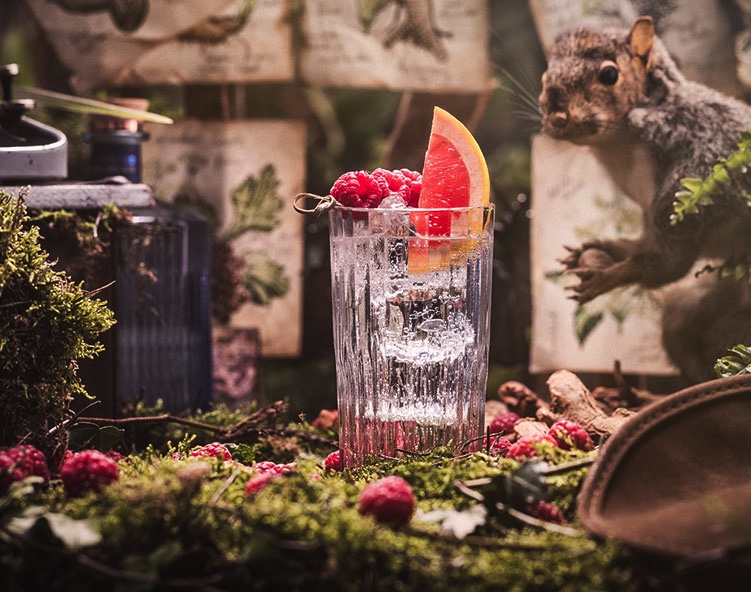 For something a little bit more elevated, but using almost the exact same ingredients, why not try your hand at making the Davy Mac? Voted Ireland's best Gin & Tonic.
40ml Gunpowder Gin
140ml Elderflower tonic
A thick wedge of grapefruit
3 Raspberries
Distilled in Nikka Whisky's signature "Coffey Still", the rich and mellow spirit at the heart of this gin is characterized by a luxurious and silky texture. In addition to traditional gin botanicals, its stunning aromatic complexity relies on the refreshing burst of Japanese citrus such as Yuzu, Kabosu, Amanatsu and Shikuwasa, the delicate fruitiness of apples, and pleasantly tangy hints of Japanese Sansho pepper on the finish.
A Nikka G&T is extremely delightful as diluting the gin while adding carbonation releases hidden flavors within the spirit. There are notes of yuzu kosho (a fermented Japanese yuzu chili paste), grapefruit rind, lemon pith, kombu, juniper, green apple and peppercorn. Silky with a long, mouth-coating finish, making this easily one of the best Gin & Tonics you'll taste!
What you'll need are:
6oml Nikka Coffey Gin
Erasmus Bond Classic Tonic Water
A shiso leaf as garnish
Elephant London Dry Gin is a handcrafted premium gin that captures the spirit of Africa. Its innovative blend of 14 botanicals combines rare African ingredients with fresh apples that make Elephant Gin distinct from any other.
Each bottle is custom-made and embossed with a crest in the shape of the typical tribal shield, and all labels are hand-written by a calligrapher; carrying the name of a past great tusker or elephant that Elephant Gin's partner foundations currently help to protect.
The inspiration behind creating Elephant Gin was through reminiscing about the so-called 'sundowner' drinks after a day out in the South African bush. These sunset cocktails are a big tradition in South Africa – and more often than not, they consist of a G & T, so without further ado, let's get down into making a perfect Elephant Gin & Tonic:
50ml Elephant Gin
150ml Erasmus Bond Tonic Water
Garnish with slices of apple