Right in the heart of the Liberties, against the backdrop of a city steeped in whiskey history, the Teeling Whiskey Distillery opened its doors in 2015 as the first new distillery in Dublin for over 125 years.
Once home to over 37 distilleries, Dublin is no stranger to the craft of whiskey making. Distilling is in the fabric of the city, and especially within the Teeling family, who views this as more than a beginning, but rather, as a Revival.
The new generation of Dublin distillers approach their craft with a respect for generations passed, and with a confidence to forge the next chapter ahead.
The Teeling Trinity Collection comprises the Teeling Single Malt, Teeling Single Grain & Teeling Single Pot Still.
Each bottling is a solid representation of a unique style of Irish whiskey.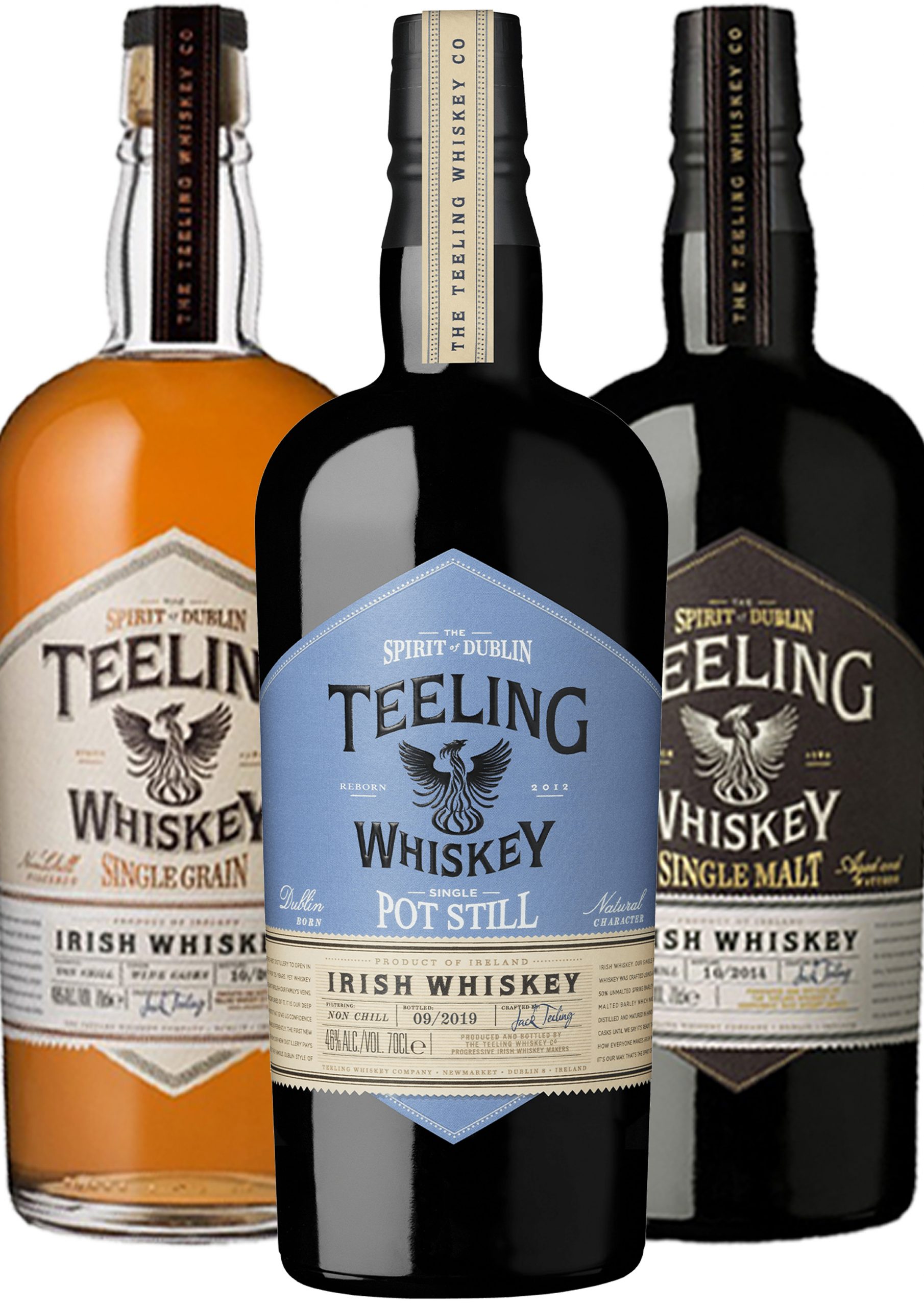 No chill filtration, for true character.
Teeling Single Grain Irish Whiskey is crafted using an unconventional mash bill consisting of 95% corn and 5% malted barley that has been triple distilled and matured exclusively in French oak Ex-Cabernet Sauvignon red wine casks from California, producing a truly unique Irish Whiskey
Made with Irish Whiskeys distilled from 100% malted barley, matured and finished in casks that impart the influence of five wine casks (Sherry, Port, Madeira, White Burgundy, Cabernet Sauvignon). This Irish Single Malt Whiskey delivers a unique fruit-forward flavour profile that is complex, yet balanced and has often been described as "a symphony" of flavour.
Teeling Single Pot Still Irish Whiskey is crafted using a uniquely Irish mash bill consisting of 50% malted and 50% unmalted barley that has been triple distilled and matured in a combination of American Virgin Oak, Bourbon, and Sherry casks.
Tonight, in honour of St Patrick's Day, we're celebrating at our bar & storefront on 80 Mohamed Sultan Road #01-10 with the quintessential Irish Whiskey.
Did you know?
Dublin distillers successfully lobbied to have an "e" added to "whiskey" to differentiate Dublin Whiskey from perceived interior alternative Irish & Scottish whisky producers.
In the 19th century, Irish Whiskey ruled the world, and Dublin Whiskey was king. The seal of Dublin on the bottle was synonymous with quality & craft. Though distilling (sanctioned or illicit) has been part of Dublin since its foundation, it was only after the Huguenot artisans arrival in the 17th century that the seeds of a craft began growing into a vibrant industry.
Being located on the cusp of the British Empire, with ample water and access to barley from neighbouring farmlands allowed the distilleries to multiply and flourish, especially as the Industrial Revolution took hold. Thus emerged an area that became known as The Golden Triangle: with three giant Dublin distilleries at its points.
Using a unique base of malted & unmalted barley, and triple distilled in pot stills for purity, no corners were cut as it lay to age, and this bold and unique Spirit of Dublin flowed from the 3 corners of the Golden Triangle, to the 4 corners of the world. However, at the dawn of the 20th century, a reluctance to move with new production techniques left Dublin distillers in the wake of the Scottish, and a bitter struggle to form an independent nation, alongside with the US prohibition devastated the Irish Whiskey industry, almost overnight.
In 1976, the last distillery of the first golden era of Dublin Whiskey ran dry. However, Irish Whiskey has proven its resilience. Brought to the brink of near extinction, now, a new generation of whiskey distillers are back, with Teeling leading the charge as the first new distillery in Dublin in over 125 years.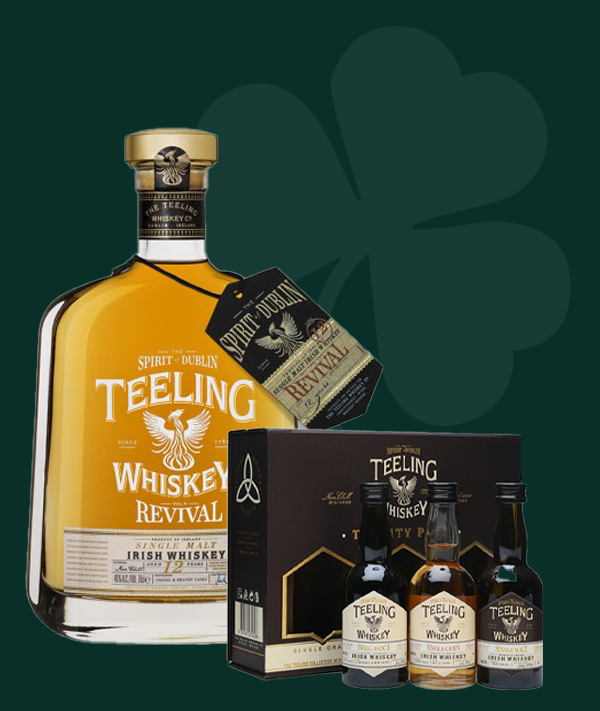 TEELING Revival 12, 46% ABV, 70cl
The Teeling Revival 12 yo is light & very fruity. It's bottled without chill-filtration so all the natural flavours from the exceptional cognac & brandy barrels used for maturation are preserved. 
For St. Patrick's Day, we're doing a giveaway with the Teeling Trinity Mini-pack: the perfect showcase of Teeling's core range of Single Grain, Single Malt & Small Batch. 
Only 12 lucky purchases of the Teeling Revival 12 will get the Trinity Mini-pack! Could it be you?